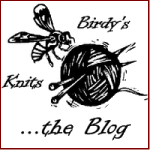 Birdy's Knits is an awesome shop that sells stitch notions, beads, and other great products.

A little bit about the duo behind Birdy's Knits.
Birdy's Knits is a husband and wife duo. Birdy and James run their small business out of their home in San Antonio, Texas. Birdy is a very talented knitter, and James designs and crafts their stitch markers that also double as lovely earrings. They have 2 small children which Birdy home schools. They started selling patterns on their main site about 2 years ago. Birdy's Knits launched their stitch counters 1 year ago, and have been selling on Etsy and Artfire since January.
Questions!
What made you decide to start selling online?
Well Birdy has been working on making a business out of her knitting hobby. So one day I decided to sneak around, and while she was out, I bought her the domain. The kids were so happy they HAD to tell her the moment she came in. We then went about setting up our site, with the original goal of just selling patterns. Two Christmas' ago Birdy made up some stitch markers for one of her secret Santa's and she used some lever back earrings. Soon after James, her husband, picked up some beads and started to make uniquely designed stitch markers that were just a bit more. We called them Dual Use Stitch Markers, and thus a whole new line was born. They went on line last March. We set up an Etsy shop sometime last year, but did not move in until this January after a complete redesign of our packaging. We wanted to make sure everything was right before we launched. Now we are confidant that we not only have a unique item, but a wonderful presentation too!
Why did you decide to start making stitch markers?
Well after Birdy made that one set she sent off, we were shopping at a discount shop and I saw some beads. They just jumped up at me, and I was like I could make some stitch markers with those. Don't know how that hit my mind, but we had been talking about extending our line of products beyond just knitting patterns. So it must have just been in the back of my mind.
Favorite craft site?
Ravelry for Birdy http://www.ravelry.com
Any tips for new sellers?
Great pictures are a must. The better our pictures the better our sales have been. Also you have to market yourself, in either forums of the site or through other sites.
Anything else you want to add?
ByHand.me has been a good help to me to connect with other artisans. I recommend learning the site and getting invo
Please check out their sites!
Website
Etsy
Artifire